AMATEUR JUMP SEASON ROUNDS OFF AT STRATFORD
23-05-2009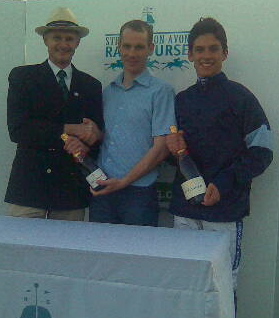 The light may have been fading when Oliver Greenall and Danny Cook received their champagne from AJA Vice President Dr Philip Pritchard at Stratford this evening but the two stars of this year's National Hunt amateur season have bright futures to look forward to.  Having turned conditional only 3 weeks ago, our NH Champion amateur runner-up (and current Fegentri World Champion runner-up) Danny Cook has already clocked up 5 wins as a professional, the latest being last night at Stratford.  
Meanwhile, Oliver's winning streak has been unstoppable and he also enjoyed a winner last night in the Novice Hunter Chase on Dennis the Legend.   This brought his winning tally for the season to 30, a fantastic total and a huge achievement considering that Oliver never set out to win the Championship this season, but has picked up from where his elder brother Thomas left off.
(Interestingly, Thomas achieved the same amount of winners to claim his first NH Championship in 2004/5 and took the championship last season with 25 wins.  Having concentrated this season on point-to-pointing, Thomas is currently leading that national championship with Dave Mansell in close pursuit and currently only 4 wins behind him.)
Our lady NH champion amateur jockey for this season, Lucy Horner, is currently sidelined with concussion and was therefore unable to collect her champagne in person, as was Rose Dobbin, reigning champion amateur lady jockey and this year's runner up who has now retired from the saddle to enjoy turning her attention to training.
Many congratulations to our fantastic champions Oliver and Lucy, their runners up Danny and Rose, and all our members who have enjoyed riding winners this season.  It was also excellent to see Jacqueline Coward at Stratford, who is making a slow but excellent and steady recovery from her head injury sustained at Wetherby back in the spring.  Jacqueline has her shoulder operated on next week, as does Dickie Barrett.  Good luck to all our members who are awaiting surgery or getting over injuries of which there seem to have been more than usual this season – get well soon and we all wish you a speed return to the saddle!