Sponsorship
AMATEUR JOCKEY SPONSORSHIP of individual jockeys is available as follows: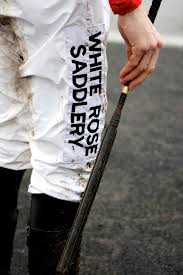 Amateur riders are excluded from seeking sponsorship income, as any payment would, through Rule 62(i)b, make them ineligible to hold an Amateur Rider's Permit.  However, providing an annual minimum payment of £250 (as from 1st January 2011 and still current) is paid via the Stakeholders to the AJA and no payment of any kind is made to an Amateur Rider in return for the appearance of branding on breeches or clothing as outlined in Section 3(d), then such Amateur Rider may be permitted to carry such branding.  In these circumstances, references to 'jockeys' in this Code are to be construed as applying to Amateur Riders.
All contracts sent to Weatherbys for registration of sponsorship for Amateur Riders must be accompanied by a cheque made payable to the AJA for £250, otherwise the contract will not be registered. If you have any queries on sponsorship, please contact Grace Martyn at Weatherbys on 01933 440077 or e-mail Grace on gmartyn@weatherbys.co.uk.  The form (requiring signatures of both the amateur jockey and the sponsor) can be found at:  http://www.britishhorseracing.com/wp-content/uploads/2014/03/Jockey-Sponsorship-Agreement.pdf
NB: This scheme is totally separate from the Point-to-Point Authority Sponsorship Scheme, details of which can be found at:  http://www.pointtopoint.co.uk/go/news/riders_sponsorship_press_release_2010.html
Hunterchases are run "Under Rules" and therefore riders must comply with AJA sponsorship as above.
RACE SPONSORSHIP opportunities are plentiful at all 59 UK racecourses but to sponsor an amateur race offers the sponsor far more than just sponsorship of a horse race!  Over the past few years, the amateur route has become recognised within the racing industry as a fantastic training ground for our future champion professional jockeys.  Many of our stars of the turf began their race riding experiences as amateurs; Richard Dunwoody, Peter Scudamore, Richard Johnson (Bollinger Amateur Champion 1995), Ryan Moore (Bollinger Amateur Champion 2000), Joshua Moore, Nick Scholfield (Amateur Champion 2007-08),  Sam Twiston Davies, Nico de Boinville (Amateur Champion 2012-13), Amy Ryan (Amateur Champion 2008), Lucy Alexander (who went on to become the first ever lady champion conditional jockey) and Bryony Frost (Champion Amateur Lady NH Jockey 2015/16) are just a few examples.  By sponsoring an amateur race you will be watching our jockeys of the future, and you may even be given the opportunity to present the prize to a future champion!
Sponsorship costs for amateur races varies from around £500 upwards and can be tailored to your exact requirements.  Whether you want to promote your products or have a personal interest in sponsorship, we would love to hear from you.  For further information please call 01886 884488 or e-mail sph.oliver@btinternet.com.