SIMON WALKER TAKES HIS 5TH BOLLINGER SERIES!
25-09-2009
There's no stopping Simon Walker this season and whilst he storms clear of his rivals on his way to taking this season's Gentleman Amateur Jockeys Flat Championship he has taken no less than his fifth Bollinger Championship along the way!
The final race of this year's series saw Simon take his fifth series with only John Ennis able to offer any threat.  Not only would John have had to win the finale to deny Simon the series but also Simon would have had to finish unplaced.
The race resulted in Simon (riding for John Dunlop for the first time) finish 3rd behind winning jockey Mark Rimell with Joshua Moore in 2nd place and John unplaced.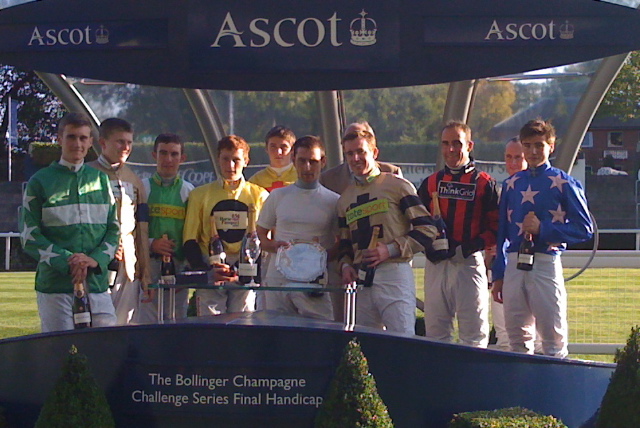 The final table therefore sees Simon as Bollinger champion with John Ennis runner-up and Joshua Moore, last year's series winner, in third place.  
Very many congratulations to Simon, John and Joshua on a fantastic achievement and congratulations to all of the lads who rode winners in this year's series.  
And finally, a massive thank you to Simon Leschallas and Bollinger Champagne for their support over no less than 16 years and to Marcus Armytage and The Daily Telegraph for their coverage.
| | | | | | |
| --- | --- | --- | --- | --- | --- |
| FINAL TABLE | | | | | |
| NAME | 1st (10 points) | 2nd (6 points) | 3rd (4 points) | 4th (2 points) | TOTAL |
| | | | | | |
| Mr Simon Walker | 3 | 1 | 1 | 1 | 42 |
| Mr John Ennis | 1 | 3 | – | 1 | 30 |
| Mr Joshua Moore | 1 | 2 | 1 | 1 | 28 |
| Mr Ross Birkett | 1 | 1 | – | 2 | 20 |
| Mr Scott Dobson | 1 | 1 | – | 2 | 20 |
| Mr Phil Collington | 1 | 1 | – | – | 16 |
| Mr David Eustace | – | 1 | – | 2 | 10 |
| Mr Ben Morris | 1 | – | – | – | 10 |
| Mr Marcus Price | 1 | – | – | – | 10 |
| Mr Mark Rimell | 1 | – | – | – | 10 |
| Mr Sam Twiston-Davies | 1 | – | – | – | 10 |
| Mr Ashley Bird | – | – | 2 | – | 8 |
| Mr James Banks | – | 1 | – | – | 6 |
| Mr Chris Martin | – | 1 | – | – | 6 |
| Mr Ben Brisbourne | – | – | 1 | – | 4 |
| Mr Stephen Harrison | – | – | 1 | – | 4 |
| Mr Patrick Millman | – | – | 1 | – | 4 |
| Mr Oliver Murphy | – | – | 1 | – | 4 |
| Mr Gary Oliver | – | – | 1 | – | 4 |
| Mr Jack Quinlan | – | – | 1 | – | 4 |
| Mr Jack Sherwood | – | – | 1 | – | 4 |
| Mr Mark Walford | – | – | 1 | – | 4 |
| Mr Paul Norton | – | – | – | 1 | 2 |
| Mr Joshua Pearce | – | – | – | 1 | 2 |
| Mr Dale Swift | – | – | – | 1 | 2 |