FEGENTRI UPDATE AS VOLCANIC CLOUD HOVERS
18-05-2010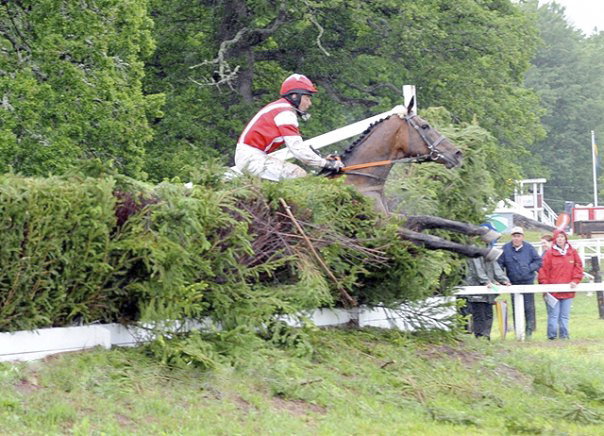 Ian Chanin's experience (above) in last year's Swedish Grand National has to qualify as one of the best Fegentri photographs ever taken!
HARRY CHALLONER and RUTH JEFFERSON are enjoying representing Great Britain this season as our respective gentleman and lady amateur rider in the FEGENTRI series and up until yesterday they had been lucky enough to have escaped any disruption caused by the volcanic ash.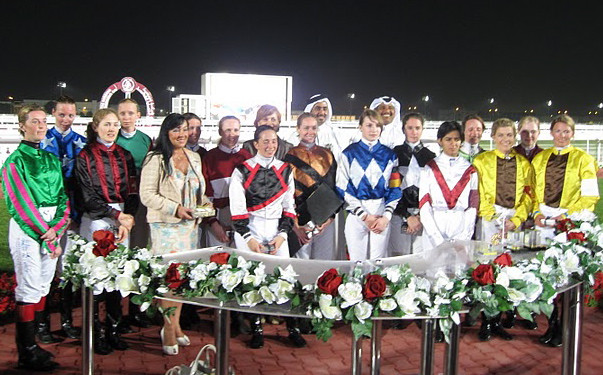 Ruth (pictured above 7th from left in Doha) was stranded in Zurich yesterday but returns home this morning having ridden into 3rd place at Frauenfeld which puts her in 3rd place overall in this year's ladies' ranking for the Fegentri World Championship.  Ruth has enjoyed rides so far in Siracusa, Doha (together with Zoe Lilly pictured above 4th left), Mannheim, Dusseldorf, Rome, Mon-Ghlin and Frauenfeld.  She travels next to Norway on 10th June and on to Philadelphia the next day.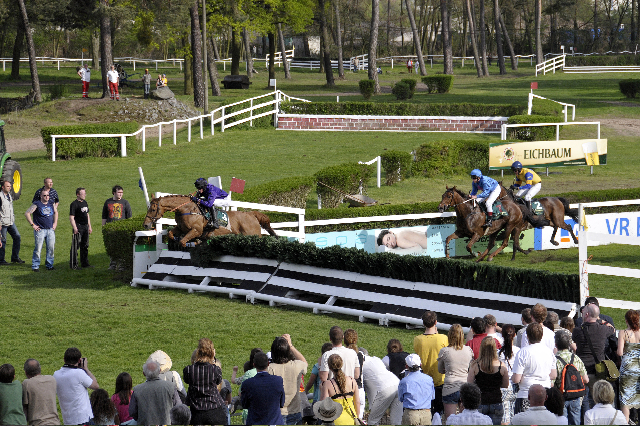 Meanwhile Harry retains 4th place in the gentlemen's ranking, which is a considerable achievement considering that he missed out on rides in both Belgium and Spain this week through no invitation.  He won by 18 lengths riding against professionals on MY FIRST CHESTNUT in Mannheim on 25th April for Germany's champion trainer Christian von der Recke (outside the Fegentri series).  Harry has enjoyed rides in Cagnes-sur-Mer, Fairyhouse and Mannheim so far and hopes to ride in Auteuil at the end of May before joining Ruth in Norway on 10th June.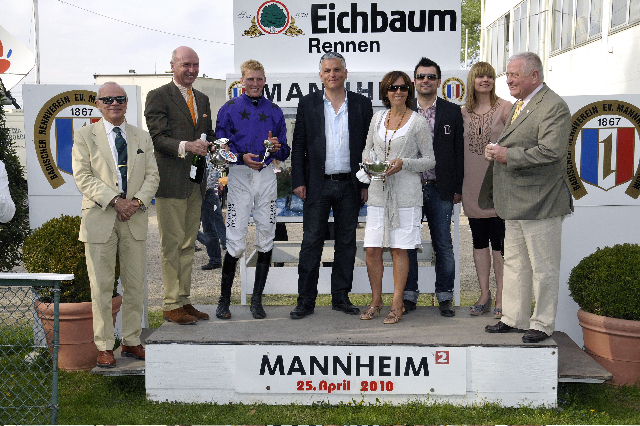 The Union Jack colours were worn in Pisa by Oliver Murphy at the end of March.  (Unfortunately Wendy Gibson's ride was a non-runner).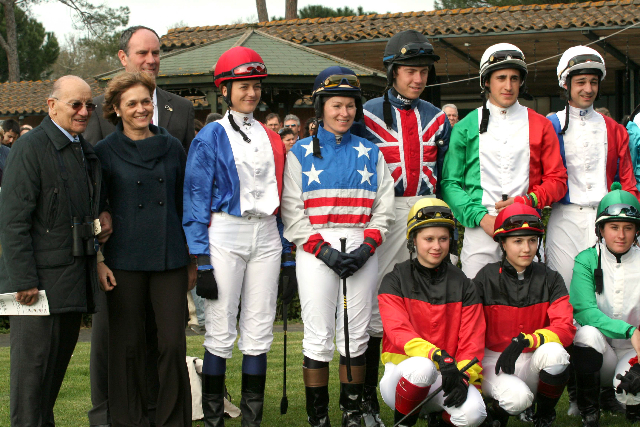 The Union Jack will be worn  by Lucy Alexander and Rob Kirk in Maisons-Laffitte this weekend in the second race of the World Cup of Nations series when Paris host an inaugural FWCN race there.
The AJA look forward to hosting 4 Fegentri races this year in England:  Nottingham (3rd July) Ladies Flat;  Stratford-upon-Avon (21st August) Mens Hurdle;  Royal Windsor (28th August) Mens Flat and Goodwood (29th August) World Cup of Nations.  If you would like to represent your country by riding in a Fegentri race and are a member of the AJA, it is a prerequisite for you to have ridden a minimum of 5 winners (preferably all under Rules, although Arab and point-to-point rides help).  Please contact the AJA if you would like to add your name to the Fegentri list of potential riders.
For more information on Fegentri please visit www.fegentri.com.