Would YOU like to ride in a charity race at Newbury?
26-05-2010
Thurday 10th June sees the annual charity race at Newbury in aid of Spinal Injuries and this year is not without its tale of courage.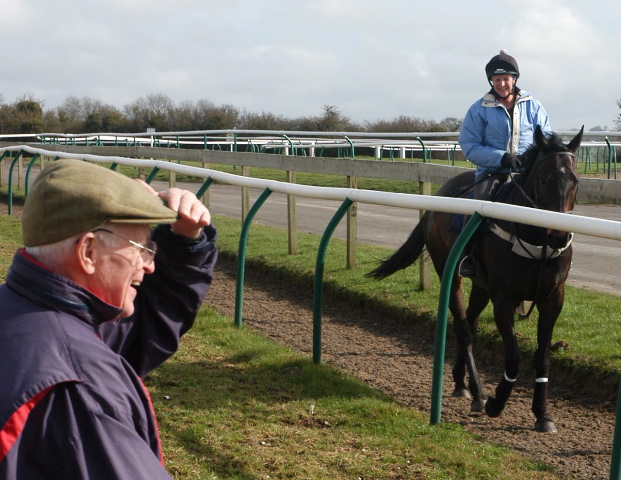 Meregan Norwood (pictured above under the tutelage of jockey coach Stan Mellor) beat breast cancer last year and set herself the task of raising £20,000 for a cancer charity.  Here is her story so far:
"Last April I was diagnosed with breast cancer and spent the rest of 2009 making sure it never returns with all the fairly awful treatments that goes with that. I was lucky as during the last week of each chemotherapy cycle I was strong enough to ride one racehorse a day. It was at that time that my brother Rupert Turner put this crazy idea in my head. On Thursday June 10 2010 I am riding in a horse race at Newbury Racecourse to raise money for the charities Against Breast Cancer and Spinal Research. By June I will be nearly 64 years old and it will be within a year of starting chemotherapy. In my eyes it would be ungenerous to turn my back on this opportunity to raise some badly needed money in the hope it will help other people not to have to go through what I and so many others have had to go through. As a rider naturally spinal injuries are close to my heart as I know several people who have suffered through injury to their spines so support for this wonderful charity is also important. Quite simply I want to raise £20,000. If 2000 people gave £10 each that it is all it will take. All I am asking you to do is give £10." 
Meregan has now raised nearly £14,000 which is being divided between Against Breast Cancer, Spinal Research and Spinal Injuries Association.  Please help Meregan achieve her goal by donating on-line at http://uk.virginmoneygiving.com/Meregan.
Other riders lining up to take part are 2008 winner Leon Nurse (who has also secured the sponsorship of SERCO for the charity race), Vicky Driver, Steve Dunn, Sarah Kilby, Sandra McAllister, Bridget Middlebrough, Guy Morrison, Anna Rowlinson (support her at http://www.justgiving.com/anna-rowlinson) and Paul Wright (support Paul at http://www.justgiving.com/Paul-Wright9)
As rules allow for 12 runners, 2 places remain available for aspiring race riders, with a fit horse available, able to raise at least £1,000 within two weeks!  If you are interested, please contact Sarah Oliver at sph.oliver@btinternet.com
If you would simply like to support this race and make a donation to Spinal Injuries, please visit http://www.justgiving.com/Newbury