Newton Abbot gives Irish amateur Lisa O'Neill first career winner!
22-06-2010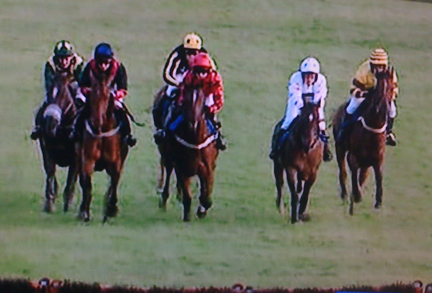 There may have only been 6 runners in the final race of the evening at Newton Abbot but the race will live long in the memory of winning Irish amateur jockey LISA O'NEILL as she enjoyed her first winner on her debut ride in England.  Assistant to trainer father Tommy, Lisa has been placed many times and her experience paid dividends this evening.
The Newton Abbot Races GB v Ireland Lady Amateur Riders Handicap Hurdle was the first leg of an annual 2 race challenge with 2 teams of 6 lady amateur jockeys representing their respective countries.
Ireland ended the evening with 1st, 3rd and 5th places and the return match at Limerick in November is now keenly looked forward to by the girls.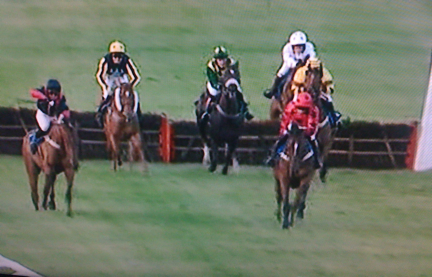 Many congratulations to Lisa on a great win!  She is pictured above, having jumped the last in front to go on and pass the post to win comfortably on Nigel Hawke's Vintage Fabric nearly 4 lengths ahead of SALLY RANDELL and Milton Harris'  Bold Policy with EVANNA MCCUTCHEON and Anabel King's Wisteria Lane in third.
Very many thanks to both Jason Loosemore at Newton Abbot racecourse and Russell Ferris at Limerick racecourse for their generosity in making these races possible and to all owners and trainers for their support.