Nottingham welcomes Fegentri ladies and Ruth scores home win
04-07-2010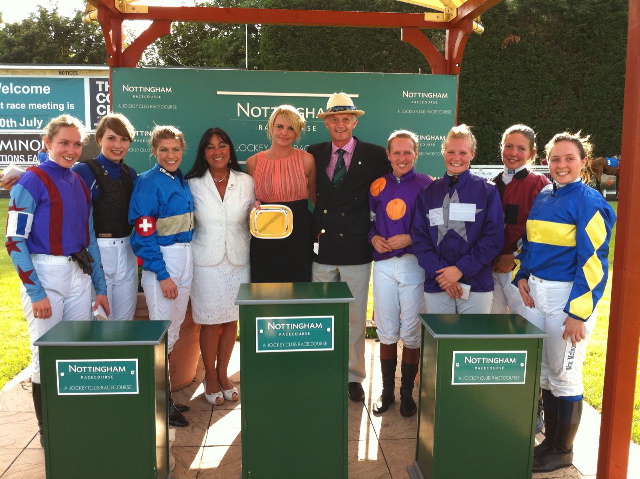 L to R:  Pauline Boisgontier (France), Nina Wagner (Germany), Catherine Burri (Switzerland), Susanna Santesson (Fegentri General Secretary), Nadia Gollings (Nottingham Racecourse Commercial Manager), Dr Philip Pritchard (Vice-President AJA),  Ruth Jefferson (GB Fegentri representative 2010), Joanna Mason (GB), Tina Henrikkson (Sweden), Pip Tutty (GB).
Nottingham's Ladies Evening kicked off shortly after Germany's victorious football quarter-final victory on Saturday night with the Fegentri Ladies World Championship race.  Seven runners went to post and jockeys including lady representatives from France, Germany, Sweden and Switzerland.
PIP TUTTY riding her own Hurricane Thomas led the field out of the gate but was soon headed by NINA WAGNER (Germany) into the home straight.  As the pace quickened, Desert Fairy and TINA HENRIKSSON (Sweden) took it up but it was the tenaciously ridden Aragall and RUTH JEFFERSON who forged clear of their rivals two furlongs out to hold on and win by 5 lengths.  Second was PIP (GB not nominated rider) and Hurricane Thomas with TINA and Desert Fairy 1 and 1/4 lengths back in third for Sweden and JOANNA MASON (GB not nominated rider) in fourth.
Many congratulation to Ruth.  This win has given her 20 valuable points and closes her gap in second place behind France's PAULINE BOISGONTIER who currently leads this year's Ladies World Championship tables.
The ladies travel to Sweden on 15th July for their next race.