A special win for Serena
13-07-2010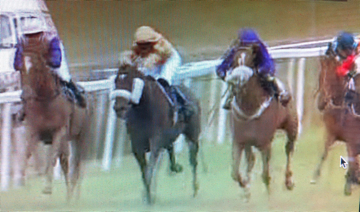 Congratulations to Serena Brotherton (above left) on a very personal win today at Beverley when she won her family race, the ladies race generously sponsored by her family and run in memory of her late grandmother, Lady Jane Bethell.
The race was eventful to say the least with four non-runners, three of which were withdrawn at the start with one bolting on its way there and two unruly in the stalls.  Unfortunately in addition a 4-day ban was handed to Jacqueline Coward as a result of her horse hanging badly during the race before finishing third, having hindered Racheal Kneller on the second.
However, this did not affect the winner Kyle of Bute who was held up by Serena Brotherton midfield before making headway from three furlongs out and ran on strongly to hit the front a furlong out and win comfortably.
Very many congratulations to winning connections on this very special family win.  Lady Jane Bethell was from 1944 to 1945 personal assistant to Colonel John H Bevan MC, Controller of Deception in The London Controlling Section – the secret organisation founded by Sir Winston Churchill responsible for military security, crytoanalysis and deception.  Consequently, she was one of only a few people entrusted with the knowledge of the intended time, date and place of the Allied D-Day invasion.