GB WIN BY MILES IN POMPADOUR!
13-07-2010
The first race in the inaugural running of the Triple Nations Cup was held in Pompadour by kind invitation of Racecourse President Monsieur Francis Delord.
12 riders were invited to take part from three nations and with temperatures at 38 degrees in Pompadour and firm ground, 8 runners were declared.  The riders were:  John Dawson, Josh Hamer and Miles Seston (red caps of Great Britain); Andrew Doyle, Richie Harding and Roger Quinlan (green caps of Ireland) with Patrick Paihes and  Praphan Phokaeo (blue caps of France).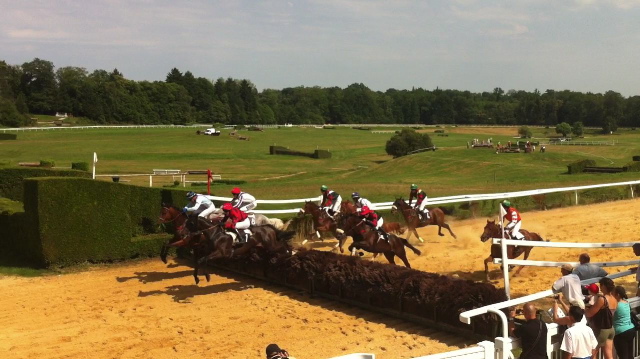 Much of the early running was made by Josh Hamer but with John Dawson taking a crashing fall in the final circuit, Miles Seston always had the leaders in his sights and kicked on turning for home to win comfortably with Josh taking second place.  Patrick Paihes finished in third for France with Roger Quinlan in fourth for Ireland.
Many congratulations to Miles on his first winning ride abroad and a huge thank you to all those in France who so kindly made this possible.