SUPERSONIC SERENA SCORES AGAIN – THAT'S 8 WINS THIS SEASON!
05-10-2010
Congratulations to Justin Newman on a good ride for his boss Bryan Smart to win the first division at Catterick today on Avertuoso.
Congratulations also to Serena Brotherton on winning the second division making it two from two on Fashion Icon for David O'Meara, just pipping Miles Seston to the post in a battle to the line (short head) and making it her 8th win of this season – an incredible tally!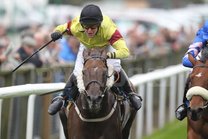 The race was not without controversy as Serena picked up a 6 day ban (she's in good company!) for her victory having gone for the rail early in the race but her sights are now set on riding in Wuhan, China, at the end of the month, where as four times Ladies Amateur Flat Champion (with this season's in the bag) as well as reigning All-Weather Champion she will represent Great Britain in the first international ladies race ever to be held there.