Annie gives Ireland solitary win at Cheltenham!
15-11-2010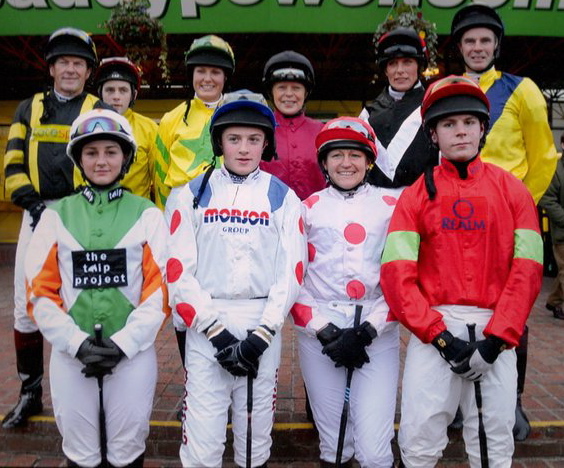 Back L to R: Derek Jackson, Niall Cronin, Annie Bowles, Jo Ewell, Julie Milner, Paul O'Leary; Front L to R: Suzie Gardner, Harry Derham, Alison Pocklington, Jamie Insole
Many congratulations to 10 valiant charity race jockeys who enjoyed riding around Cheltenham's old course this afternoon in aid of Greatwood, the charity that not only provides sanctuary for racehorses but also supports children with learning difficulties  by their unique programme Horse Power, and raised over £23,000 in the process.
Ireland was well represented with Barry Connell's colours worn by PAUL O'LEARY, this year's Newmarket Town Plate victor DEREK JACKSON, Ireland's Evening Herald scribe NIALL CRONIN and Irish Field's diarist and fiancée of Grand National winning trainer Gordon Elliott, ANNIE BOWLES.  In addition, jockey's nephew JAMIE INSOLE and Paul Nicholls' nephew HARRY DERHAM lined up alongside SUZIE GARDNER from the TRIP project, JO EWELL winner of Larkhill's 2007 charity race, local JULIE MILNER who rode in Cheltenham's 1993 Red Nose charity race and ALISON POCKLINGTON, Yorkshire's novice lady point-to-point champion 2007 who was celebrating her hen weekend!
The pace was set from flag fall by Annie Bowles on Wikaala, her regular ride at home, and she led the field from start to finish winning by 9 lengths and giving Ireland its only winner of the 3 day meeting. There was a race for second place which was won by Harry Derham on Font, 2 lengths ahead of Paul O'Leary on Ten Fires with Alison Pocklington ten lengths back in 4th on Winged Farasi.
Many congratulations to all our riders on a great spectacular finale to the Open Meeting, and immense thanks to all at Cheltenham Racecourse for making this possible.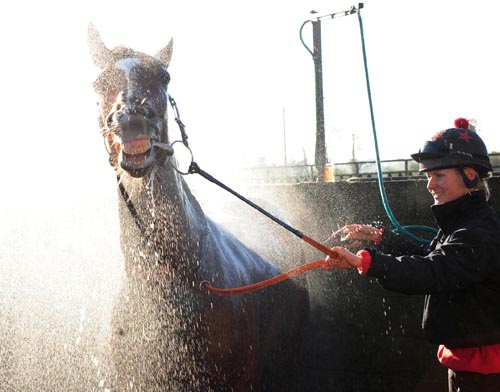 Annie washing off Wikaala at home