Folkestone's valiant efforts beaten by snow
29-11-2010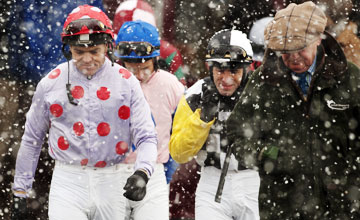 Phil York and Cyril Coste lead out the British and French jockeys from the Weighing Room
Its a long journey home for our French friends today after arriving in Folkestone ready to take on the British jump jockeys team in this afternoon's challenge.
The ground having survived inspections yesterday, at 7:30 this morning and again at 11:45 am, the runners and riders braved the elements and were down at the start when the snow started to fall fast and thick.
The horses' feet were inspected and snow was found to be balling underfoot, creating serious safety concerns.  The horses cantered back to the paddock, where further deliberations took place in the snowstorm before the meeting was finally abandoned.