BHA agrees to contribute to AJA for amateur jockeys' wins v professionals at last!
12-09-2011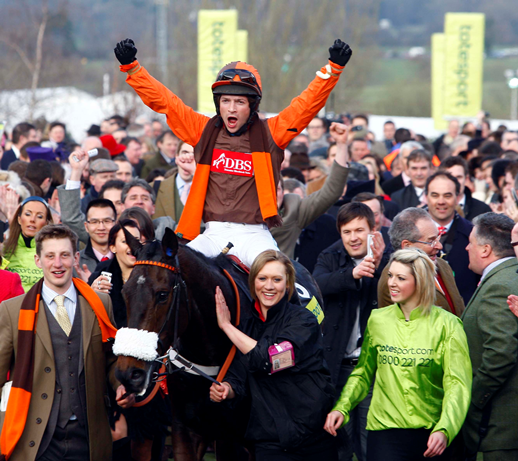 The British Horseracing Authority (BHA) has today announced it will share the benefits of the income it generates from amateur jockeys riding against professionals with the Amateur Jockeys Association for the very first time.  Whilst the BHA already supports amateur jockeys through a contribution towards the provision of insurance and funds industry training and on-course physiotherapists – totalling in excess of £450,000 over the past four years – a major proportion of future prize money and riding fees earned by amateur jockeys will now be shared with the AJA.
In addition, the outstanding achievements of Sam Waley-Cohen in becoming the first amateur jockey in 30 years to win the totesport Cheltenham Gold Cup and finishing second in the John Smith's Grand National in 2011, have enabled the BHA to provide a further £30,000 grant to be divided between the AJA, the Pony Racing Authority (PRA) and to Sam's newly-founded charity, the Thomas Andrew Waley-Cohen (TAWC) Fund, which is aimed at providing financial support for charitable initiatives across the country.
£20,000 of this grant has been allocated to the AJA towards funding for a small number of valuable Jump races for amateur riders, which will be planned in consultation with BHA Racing Department and the racecourses concerned, with the hope of building a stronger platform from which amateur jockeys can launch their riding careers.
Sam said:  "I am delighted that the BHA has revised the current system so that in future a percentage of amateurs' prize money from wins against professionals will be awarded to the Amateur Jockeys Association. This will undoubtedly benefit all amateur riders, and represents a significant step forward for the sport.  It is also rewarding for me personally that the memorable season I was fortunate enough to enjoy in 2010/11 will benefit the AJA, PRA and my own charity, the TAWC Fund. I am excited to see what developments can arise as a result of these grants, including the prospect of additional races for amateurs, and it gives me great pleasure to be able to put something back into a sport which has given me so much, and perhaps in doing so help all amateur jockeys to continue their fine contribution to the sport."
Sarah Oliver, Chief Executive of the AJA, said: "Following the recent hugely successful partnerships of Sam Waley-Cohen with Long Run and Oscar Time, the AJA are delighted that agreement has been reached with the BHA so that amateur jockeys will benefit from future winning rides against professionals. Not only will a fund from Sam Waley-Cohen's wins last season finance additional amateur races, future amateur jockeys' winning ride percentage prize money against professionals will also be included. The AJA acknowledges the significant contribution made by all amateur jockeys who has won against professionals in the past."