Similator Fall Training: learn how to bounce back!
13-09-2011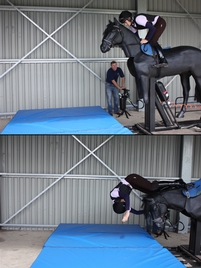 The Injured Jockeys Fund has purchased an Equichute thanks to the Alborada Trust. John Francome believes it is vital to the training of jockeys. "There is no doubt that it will save lives and no end of injuries. If it stops one person a year from ending up in a wheelchair, then it has paid for itself ten times over."
The equipment at The British Racing School is to be used in conjunction with training. The machine, the first of its type in Britain, works on compressed air and therefore speed and severity of the fall can be regulated. Integrated into the Course Programme is a series of sessions looking at the technique to minimise injury. The sessions will be taken by Jon Pitts and Steve Smith Eccles.
Spaces are available for the next training course on Tuesday October 11th. The course includes an introduction and briefing, technique practical session and technology to analyse falls from the Equichute and costs £75. For further information and/or to book your place please contact Clare Higgins on 01638 665103 or 675907 or e-mail clare@brs.org.uk.