Robert Cooper handed 52 day ban and answers with a winner
12-01-2012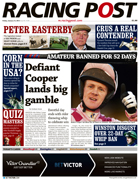 Robert Cooper began today negotiating the road from Shropshire to the British Horseracing Authority's headquarters in London to face the Disciplinary Panel before journeying on to Fontwell races.   Having been referred to London by the Stewards at Uttoxeter following his victory on Elton Fox in a maiden hurdle on 31st December, he was given a 52 day ban for excessive use of the whip  and for not allowing time for the horse to respond.
The New Year's Eve victory had provided Robert with his first winner in 12 years for his guv'nor John Needham and he went on to ride another winner later that day.  In response to his hefty ban, Robert rode his 3rd winner within a fortnight this afternoon to an enthusiastic Fontwell crowd and threw his stick away in defiance as he passed the winning post.
Robert said that he was "gutted" with his punishment but "rules are rules and you can't break them. Obviously some were connecting but not intentionally but they didn't look at it that way.  I know I was way too many over, but it wasn't intentional."  Robert's ban will only apply on days when there are amateur races as dictated by current Rules of Racing, but with Hunterchase season fast approaching this will ease the punishment considerably for him.
The current whip rules state that the maximum number of whip usage during a race is 7 on the flat and 8 over fences.