FEGENTRI 2012
20-02-2012

It was a difficult choice to select two Fegentri representatives from a huge number of excellent applicants but the AJA are pleased to announce that the lucky pair to represent Great Britain for 2012 will be HAYLEY MOORE and MIKEY ENNIS.   They travel out to Qatar where the Fegentri 2012 General Assembly takes place in Doha on Monday 27th February with a men's race and 2 ladies races over the following 3 days.  Sadly Hayley missed the first Fegentri ladies race of the year in Oman as this was originally non-Fegentri and offered a great chance for PERNILLA HERMANSSON to represent GB; similarly Mikey missed out at Cagnes-sur-mer last weekend with no invitation extended from France but such is the nature of Fegentri and plenty of rides worldwide await both jockeys.
Thanks to the kind invitation of Lara Sawaya, Festival Director to HH Sheikh Mansoor Bin Zayed Al Nayhan's Global Arabian Flat Racing Festival, more opportunities than ever before can be shared between our lady jockeys with the running of a new Arab series, THE SHEIKHA FATIMA BINT MUBARAK LADIES IFAHR CUP 2012.  HELEN CUTHBERT enjoyed the first race of this series in Oman in January.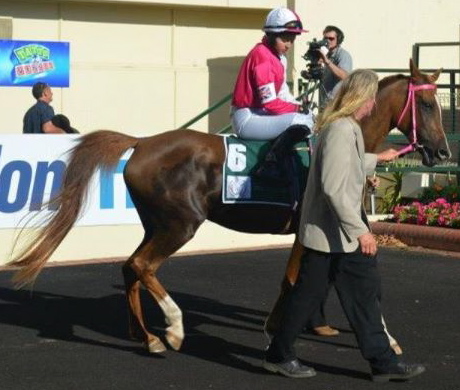 PIP TUTTY visited Moonee Valley Racecourse in Melbourne a fortnight later finishing 2nd and enjoyed the added bonus of seeing Black Caviar recording another historic win.  Visit  http://www.youtube.com/watch?v=Ktz5YuBoGoU to get a flavour of the great atmosphere.  ADELE MULRENNAN will represent GB next in Houston, Texas in early March.
We really appreciate the bonus of these Arabian races to allow more lady jockeys a share in the unique experience of race riding abroad.  The series asks for a different rider for each race and, unlike Fegentri, riders do not need 5 wins to participate.  We are working on more opportunities for our gentlemen riders in the near future to level out the playing field.