Mercedes prize for Fatima Series winning jockey
24-04-2012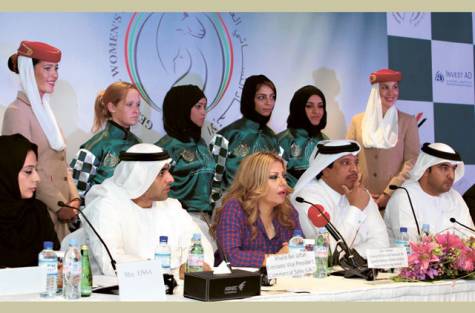 Rachel King represented Great Britain in Abu Dhabi at a Press Conference and Exhibition during Aintree week when it was announced that The Shaikh Mansour Bin Zayed Al Nahyan Global Arabian Flat Racing Festival's Her Highness Shaikha Fatima Bint Mubarak Ladies IFAHR Cup will now be run as a world championship with invited professional lady jockeys also participating.  Rachel won a race in this Arab racing series in 2011 in Oman.
Points will be awarded for participation and Lara Sawaya, Festival Director, also announced an additional £50,000 is now added to the championship, which will be distributed between the top 3 point winning amateur clubs at the end of the series (€25,000, €15,000 and €10,000) in appreciation of their support and encouragement of lady jockeys.
The winning lady jockeys of each of the 9 races of 2012 will automatically get an entry into the HH Shaikha Fatima Bint Mubarak Ladies World Championship final race in Abu Dhabi on 4th November.  The winner of the final championship race will also win a Mercedes car!
The AJA are very grateful to Lara Sawaya for producing so many unique race riding opportunities around the world to so many lady jockeys.  So far this year Helen Cuthbert (Oman), Pip Tutty (Australia) and Adele Mulrennan (Texas)  have taken part.  Nicola Dumelow travels to Morocco for the 4th race of the series on 4th May.  Newbury hosts the next race on 19th May when Anna Wallace will represent Great Britain.
The series then moves to Berlin (10th June), Stockholm (10th July), Warsaw (26th August), and Craon (3rd September) before the finale in Abu Dhabi.