Jacqueline Coward & Crackentorp repeat QM Cup success
16-06-2012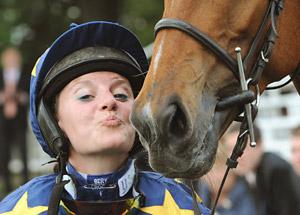 Many congratulations to Jacqueline Coward who became the first lady jockey ever to win the Queen Mother's Cup with the same horse in consecutive years today with her trainer uncle Tim Easterby's Crackentorp.  (Francesca Cumani followed her mother's win of 2004 by winning with Idealistic (2005) and Soulacroix (2006).) Crackentorp clearly loves York as he was also third in this race in 2010.
Despite being drawn wide from stall 20, Jacqueline enjoyed a smooth victory.  "She's given him a fantastic ride; everything else drawn high was dropped in but she managed to get across" said Tim Easterby.  "He absolutely loves it here, but I didn't think he'd handle the ground.  He obviously did!"As tradition dictates, the winning jockey weighed in closely watched by Pol Roger who then generously presented her with her own weight in champagne.  Jacqueline said of the winner "He's a proper Yorkster!  This year I think we are going to have to have a party."
The race result was a true Yorkshire victory with fellow Yorkshire girls Rebecca Smith and Samantha Drake finishing 2nd and 3rd.