Pack golf clubs & saddles for Perth 31st July!
21-06-2012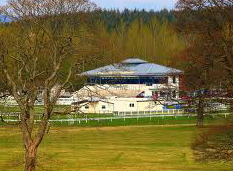 As part of the 2 day golfing/racing meeting at Perth on 31st July, a new Amateur Riders Handicap Hurdle 0-115 over 2 miles with prize money of £4,000 is now programmed on the evening of Tuesday 31st July.  Racing also takes place the next evening, 1st August, and a GOLF TOURNAMENT with a £1000 first prize for the winning team will be held.
Points will be awarded for winners and placed horses over the two fixtures and these points will be added to the Golf Team scores.  Fun is assured!
If you would like to combine your race riding with some golf, please contact Sam Morshead, General Manager of Perth Racecourse: sam@perth-races.co.uk Tel: 01738 551597