Freddie retains lead in Fegentri Gentlemen's World Flat Championship
06-10-2013
This Fegentri season has seen mixed fortunes for our two GB representatives with Emma Sayer sustaining broken vertebrae when falling in a chase in Dieppe on 2nd June.  Very disappointingly, this knocked her out of the 2013 Fegentri Series as the doctor stood her down until mid-October but the good news is that Emma has healed well and will soon be back in the saddle.  We all look forward to seeing her back in action on the racecourse again soon.
Our gentleman representative, Freddie Mitchell, has managed to stay injury free but has also had his own share of bad luck, having won the Marechal Foch in Auteuil on 19th May.  Following the race, with no Stewards' Enquiry called, the French lady rider Barbara Guenet who finished 3rd (on the near side of the track) objected to Freddie (on the far side of the track) and following the subsequent enquiry (all in French so that Freddie was unable to defend himself) Freddie was demoted to 3rd place.  Barbara, Assistant to Guillaume Macaire, has gone on to win the Fegentri Jump Championship.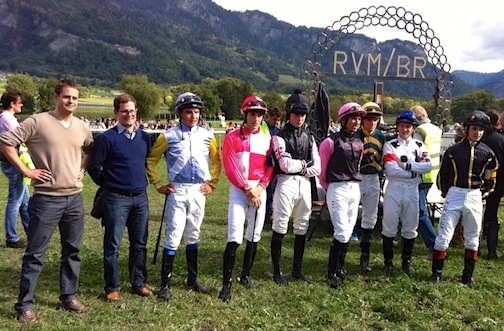 Freddie Mitchell (centre) and Chris Martin (3rd from right) in Maienfeld today
Meanwhile Freddie's rides on the Flat have been less eventful and he is currently in pole position on 144  points (from Alexandre Lemarie of France on 103 points) having finished 2nd to Fabrizio Perego of Italy in Maienfeld, Switzerland today.  (Chris Martin also got a last minute spare ride!)  Details of the men's finale is yet to be confirmed but Nottingham host their next race on 30th October.  Good luck Freddie!