End of season produces nail-biting finish for ladies
08-10-2013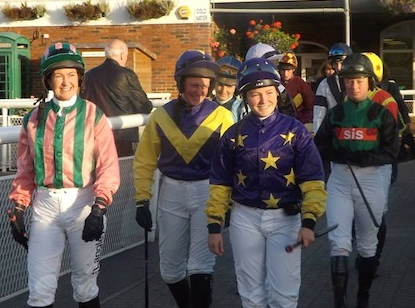 Champion Jockey Serena Brotherton leads the field out to the paddock at Catterick Bridge with Catherine Walton (middle) literally emerging out of her shadow and Becky Smith (right). Coincidentally, these 3 jockeys finished in the first three, Catherine denying Becky her first flat win with Serena third. 
With reigning champion lady jockey Serena Brotherton stealing a march on the ladies championship and until recently leading with 4 wins, last week's surprise win by Catherine Walton at Nottingham was her 3rd win of the season and she was able to follow up with another today at Catterick Bridge.  The two girls now lead the ladies with only 3 races left!  (18th: Ladies @ Redcar; 25th: Mixed @ Doncaster; 26th Ladies finale @ Newbury).  Good luck girls!
Meanwhile the gentlemen's tables are led by reigning champion Simon Walker along with Jamie Hamilton on 3 winners each. As well as the mixed race at Doncaster, 4 gentlemen's races remain: 13th @ Goodwood, 21st @ Windsor, 28th @ Leicester and the finale @ Nottingham on 6th November.