The Point-to-Point Race Planner & Pointing 2014 available to order now
06-11-2013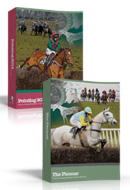 The Point-to-Point Race Planner & Pointing 2014 available to order now
The new Point-to-Point season is fast approaching and preparations for the opening fixtures on the 1st December are well under way.  Both The Planner and Pointing 2014 are on course to be published by Friday 15th November; however they can be ordered now to ensure you receive your copies at the earliest opportunity.
The Point-to-Point Race Planner is once again available for just £30 (plus p&p) and remains the only place to provide full race conditions for all GB Point-to-Points and Hunter Chases. 
Pointing 2014 has undergone a few style changes (based partly on feedback we received after last year's rebrand); the comprehensive results section complete with full comments in-running has returned, and the traditional analysis and rating for every Pointer to have run in Great Britain during the 2012/13 season has also returned to its previous format.
Pointing's price has also remained the same as the last year (£39 plus p&p).
2013/14 Special Offers
The Point-to-Point Racing Company is pleased to offer a variety of money-saving special offers for the new season:
Offer 1 – The Planner & Pointing Bundle : Order the sport's two essential publications and qualify for FREE P&P (SAVING £5)
Offer 2 – Membership Package Bundle: A copy of The Planner and a 12 month subscription to pointtopoint.co.uk for just £65 (SAVING £5)
Offer 3 – Membership PLUS Package Bundle : A copy of The Planner and a 12 month subscription to pointtopoint.co.uk and Viewpoint for just £100 (SAVING £10)
To place your order call 01933 304792 (Monday to Friday, 9am-5pm) or click here to order online.
Click here to view the full range of Point-to-Point products