Marcus Haddock enjoys winner with first ever ride!
15-08-2014
The 6th race in the Betfair Novice Riders Series at Nottingham saw 4 non-runners of the original 11 declared with monsoon conditions giving concern for a slippery surface after heavy rain falling on hard ground.  After listening to expert guidance from Jockey Coach Jimmy Bleasdale on the pre-race coursewalk, jockeys set off at a steady pace and did not quicken until turning into the straight where they formed a line abreast.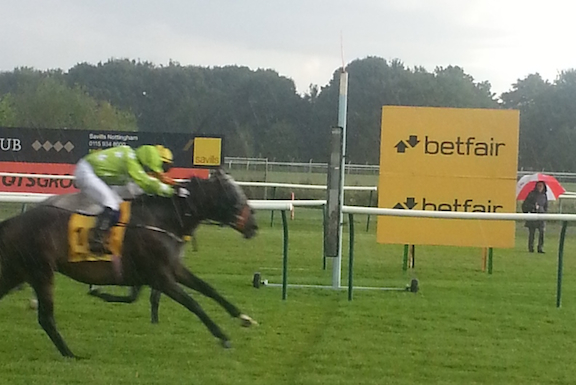 A battle to the line ultimately ensued between Jordan Williams on TASTE THE WINE and first time jockey Marcus Haddock on SOUNDBYTE who led near the finish to hold on by a head.  Many congratulations to Marcus, a graduate of the Northern Racing College, seen here receiving his prize from Betfair's Simon Kirk.  The series now moves on to the penultimate race on Bank Holiday Monday at Ripon.