HH SHEIKHA FATIMA BINT MUBARAK ARABIAN LADIES WORLD CHAMPIONSHIP 2015
07-01-2015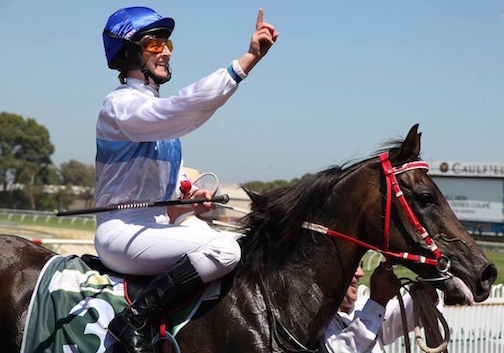 Aly Deniel wins for GB in Australia February 2014
.
Thanks to the generous support of Lara Sawaya, Executive Director of the HH Sheikh Mansoor Bin Zayed Al Nahyan Global Arabian Horse Flat Racing Festival, 2015 offers another exciting year of Arabian racing around the world which is open to lady jockeys who are able to ride at 9 stone and have ridden at least 5 winners either on the Flat, over Jumps, Arab racing or a combination of these.
The year begins in OMAN on 16th January when JODIE HUGHES will represent GB.  10 days later the series moves to Sportingbet Park, MELBOURNE, AUSTRALIA where ex-amateur ANNA HESKETH will fly the Union Jack.  A further 12 races make up the 2015 calendar as follows:
February tbc         Manama, Bahrain
22nd February      St Moritz, Switzerland (professional jockeys only)
8th March             Texas, USA
11th April              Casa Anfa, Morocco
17th April             Toulouse, France
9th May                Lingfield, UK
31st May              Warsaw, Poland
6th June               Stockholm, Sweden
28th June             Dundight, Netherlands
6th July                Pleasanton, USA
17th August         Ostend, Belgium
8th November     Abu Dhabi Finale
If YOU would like to represent Great Britain in this incredible ladies Arabian world series then please contact the AJA.  All flights and accommodation are paid for by our generous hosts and we are most grateful to Lara Sawaya for all of her hard work and continuing support.