Lisa O'Neill takes £5,000 worth of diamonds home to Ireland
18-07-2015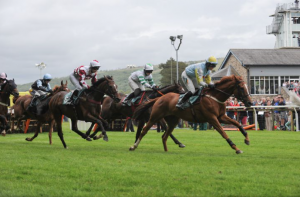 Many congratulations to Ireland's victorious amateur Lisa O'Neill who joined 9 other lady jockeys at the post at Cartmel Racecourse today for the Banks Lyon Jewellers Lady Riders' Hurdle, which played an important part of their Cumbria Crystal Cup Day.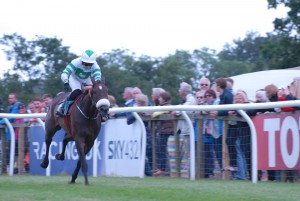 Lisa is a jockey on fire, having recently won when representing Ireland in the Netherlands in the HH Sheikha Fatima Bint Mubarak Ladies World Championship (pictured below)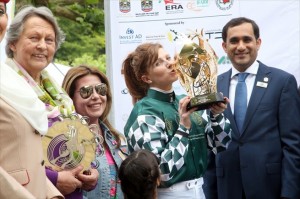 The generous sponsorship of Lancaster-based Banks Lyon Jewellers at Cartmel included diamonds for the winning lady jockey as well as £10,000 prize money.  As a consequence the race attracted ladies from England, Scotland, Ireland and Wales.  Ultimately it was the hold up tactics of Lisa on Gordon Elliott's TEMPO MAC that paid dividends, allowing the horse to make smooth headway tracking the leaders from 2 out to score comfortably once they turned into the final straight, winning by 8 lengths.
The winning jockey's prize is a £5,000 diamond drop pendant set in 18 ct white gold and displaying a pair of pear cut diamonds top and tailing 5 oval cut diamonds.  Managing Director Rodney Banks Lyon said "We are naturally very pleased to be able to sponsor this race, as it is a fantastic opportunity for female jockeys in a traditionally male-dominated sport, as well as an excellent draw to the area."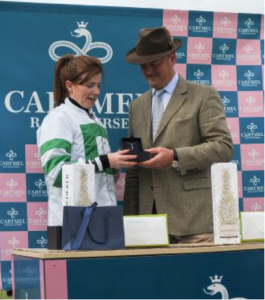 Huge thanks to both Cartmel Racecourse and to Banks Lyon for providing such a great prize to encourage and support lady jump jockeys from near and far and to add so much sparkle literally to a great day's racing.