Gentlemen's Nottingham finale yields a championship title tie for Simon Walker with rising star Tom Greatrex
07-11-2015
With multiple Flat champion amateur Simon Walker clocking up winners in customary fashion, it seemed that the 2015 season might result in what has become a predictable conclusion.  Simon has been crowned Amateur Gentleman Flat Champion Jockey no less than 8 times (2005, 6, 7, 8, 9, 10, 12 and joint champion in 13) and taken the runner-up position in all other intervening years.  His 3rd win of the 2015 season on 6th October at Catterick therefore seemed to hint at another title in the bag.  However, jumps trainer Warren Greatrex's son Tom was yet to prove to be a hugely promising jockey addition to the amateur ranks.
Within the last few remaining weeks of the season, 17 year old Tom Greatrex rode an impressive 5 winners, the first being at Royal Windsor on 5th October with DREAMS OF GLORY for Ron Hodges (in a race restricted to riders who had ridden no more than 10 winners and therefore cannot count towards the championship). (see below inside rail white cap)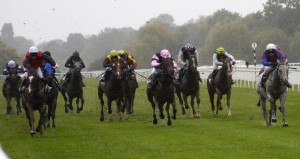 His return to Windsor on 19th October yielded another win, this time for Harry Dunlop with RUM SWIZZLE (photo finish with Sam Waley-Cohen on George Baker's LOVING YOUR WORK).  This was followed by a memorable double (below) at Leicester on 26th October when Tom took both divisions of the Fosse Way Amateur Riders' Handicap with Brendan Powell's CHAMPAGNE BOB and Richard Price's UNCLE DERMOT.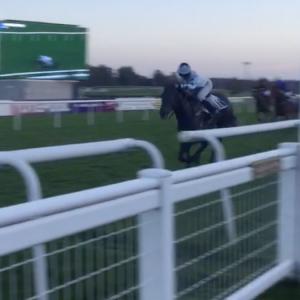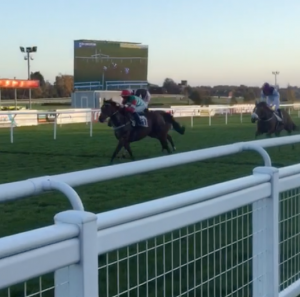 Finally on 4th November Tom won the AJA gentlemen's finale at Nottingham with Gary Moore's TOP DIKTAT, winning by 3/4 of a length from the all time champion Simon Walker!
Tom, twin brother of Edward Greatrex (who is apprenticed to Andrew Balding and famed for his success this summer aboard Godolphin's Musaddas), is attached to David Pipe's yard and only had his first ride as a 16 year old on 26th  January of this year in an AJA sponsored hurdle race at Ludlow.  He is a great example of the usefulness of the amateur route as a training ground and we send him huge congratulations for such a great start to his career.
Congratulations also to champion Simon Walker on his consistent position at the top of the tables over so many years.  In addition Simon has also been crowned Champion Jockey of the Arabian Racing Organisation.  Simon and Tom share this year's title of Gentleman Amateur Champion Jockey with 4 wins each.