Abu Dhabi hosts HH Sheikha Fatima Bint Mubarak World Series Finales
14-11-2015
The finales of both the HH Sheikha Fatima Bint Mubarak Apprentice World Championship and the HH Sheikha Fatima Bint Mubarak Ladies World Championship were held in Abu Dhabi on Sunday 8th November to round off  HH Sheikh Mansoor Festival's Conference attended by all jockeys who had participated in both series during the year.
Great Britain was represented during 2015 by apprentices Jack Gilligan (Kentucky) Rob Hornby (Sandown and Sao Paulo, Brazil), Aaron Jones (Kazan, Russia), Luke Leadbitter (Poland), Rowan Scott (Sacramento, USA), Sophie Killoran (Poland), Sophia Cox (France) and in the ladies series (includes both professionals and amateurs) by Anna Hesketh (Australia), Racheal Kneller (St Moritz), Ann Stokell (Stockholm), and  amateurs Jodie Hughes (Oman), Lorna Brooke (Bahrain and Poland), Becky Smith (Texas), Stefania Gandola (Lingfield), Alex Dunn (Netherlands), Hannah Watson (California) and Page Fuller (Belgium).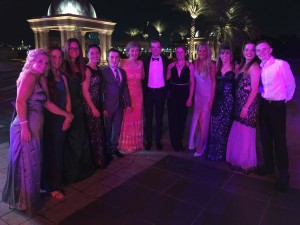 With all winning jockeys invited to ride in their respective finales, it was a proud moment to have 3 victorious ladies riding for Great Britain: Ann Stokell, Becky Smith and Page Fuller.  Sadly both Ann and Page finished down the field but Becky had a great run riding Haizoom for Festival patron Sheikh Mansoor, finishing 2nd to Switzerland's professional Astrid Wullschleger.
Many congratulations to Becky on such a successful outcome and huge thanks to Lara Sawaya, Executive Director of HH Sheikh Mansoor Bin Zayed Al Nahyan Global Arabian Horse Flat Racing Festival, for providing so many unique racing experiences for all jockeys worldwide.