Fairyhouse host inaugural Ladies Chase
18-11-2015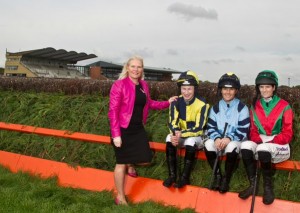 Thanks to the initiative of Peter Roe, General Manager of the home of the Irish Grand National, Fairyhouse Racecourse, today sees the inaugural running of a pro/am ladies chase: The Today FM Ladies Handicap Chase.
Ireland's leading ladies Katie Walsh, Nina Carberry and Rachael Blackmore are amongst the jockeys taking part in the first all-female chase under Rules to be held in Ireland. GB is represented by amateur Lorna Brooke who rides 20/1 shot Monotone Lane and by conditional Lizzie Kelly.
Peter Roe said "We are delighted to have 12 runners declared for the first all-female chase under rules to be run in Ireland. It has exceeded our expectations. We are looking forward to an exciting race with the best lady jockeys from Ireland and Great Britain."
Good luck ladies!