Racing Post feature Amateur Jockeys in Sunday piece
08-08-2016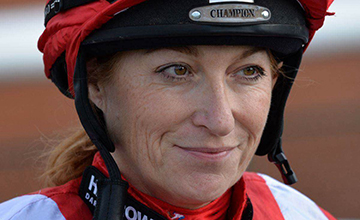 Corinthian spirit still strong among amateurs
BY LEWIS PORTEOUS 3:30PM 8 AUG 2016
Originally published in RPSunday on August 7
AMATEUR riders are sometimes stereotyped as wannabe professionals or blessed with a bloodline that means there is rarely a need to check a buoyant bank balance. But while the grassroots level of riding is inevitably different now from where it started, the age of the corinthian is not quite dead and buried.
Serena Brotherton, an eight-time champion female amateur rider, proved that when reaching the cherished milestone of 100 winners on the Flat recently – a rare and notable achievement given the small number of races available to amateurs.
While it may have taken the best part of two decades to reach her landmark, for the past eight years Brotherton has juggled her much-loved unpaid vocation in the saddle with her career as a solicitor.
A daily juggle, no doubt, but one she clearly relishes and without the regular grind of long hauls to and from the track, or being shadowed by the daily demands of the weighing scales like their professional counterparts, there is good reason why she and her part-time colleagues relish the infrequent days when an amateur riders' race makes the schedule.
Less stress – the importance of which is not to be underestimated against the backdrop of Kieren Fallon's retirement because of depression and general moves towards protecting jockeys' mental health – and more camaraderie seem to be key ingredients in making an amateur career a fulsome one.
And, as RPSunday discovered, there are more riders than Brotherton able to balance riding with a regular day job.
Rachel Wilson
Age 49
Winners Five
Profession Writer
Novelist, columnist and political consultant, when it comes to Rachel Wilson's chosen profession she is certainly well qualified. But as well as her penchant for literature, she is also a keen horsewoman and through a diet of early mornings and early nights she somehow manages to marry the two.
As a freelance writer, Wilson, from Market Harborough, has a degree of flexibility to her schedule and adopting the early-worm approach to life has seen her lifelong love for horses result in five winning rides on the Flat.
"The main sacrifice is my social life," says Wilson, speaking after completing her usual morning routine that includes a 120-mile round trip to Paul d'Arcy's Newmarket yard to exercise her pride and joy, six-year-old sprinter Red Invader, owned by her husband Charlie.
"I get up very early at 4.45am to beat the traffic to get to Newmarket. I swim in the pool when I get there to keep my fitness up and then go and ride out. I might have a little rest when I come home and then work in the afternoon, and I'm usually in bed for 9pm with a book."
Despite her lack of nights out, Wilson would not have it any other way, and the sincerity in her voice is unquestionable as she describes how lucky she feels.
"Having to get up early isn't a hardship," she says. "Every time I'm on a horse I'm happy and I never feel like I'm wasting my time. I feel really lucky I've the opportunity and my body, touch wood, is keeping going and allowing me to do it."
Since gaining her licence in 2011, Wilson has had close to 50 rides, with three of her five wins coming aboard Red Invader.
The pair have yet to strike this year but Red Invader has slipped to a handy mark, and Wilson adds: "There's nothing I'd rather do than ride my sprinter."
Victoria Davies
Age 35
Winners Five
Profession Regional sales manager
As if motoring around the north of England, delivering the patter of a canny saleswoman and keeping an amateur riding career afloat was not enough to contend with, Victoria Davies has the little matter of two-year-old twin boys to nurture. Somehow she fits everything into a jam-packed schedule.
As the daughter of North Yorkshire trainer Ron Barr, Davies was raised on handicap ratings and evening stables, although having seen the less glamorous side of racing there was never any great ambition to ride professionally.
"I know jockeys who have to waste a minimum of 7lb a day just to ride," she says matter-of-factly. "That can't be good for your body and I feel for the apprentices trying to get going – so many just don't get the opportunity. I've always ridden, from pony club to showjumping and through to racing, but I like being an amateur."
Davies first rode competitively with a licence in 2003 and has amassed more than 120 rides, almost exclusively for her father, picking up five winners along the way.
"I wouldn't say there's less pressure as an amateur but it's good fun and I wanted a career on top of it as well – something with longevity," she says. "I wouldn't say you always get that with racing."
Three years ago she started a career that looks like providing the security crucial to her young family, taking up the post as northern regional sales manager for Spillers Horse Feed and, despite the travel involved, she has managed to maintain her riding interest.
"Being an amateur is manageable," she says.
"There aren't masses of races and we tend to stay local. The programme tends to stay the same each year so I know I need to be fit from around May.
"I ride out Mondays, Wednesdays, Fridays and Saturdays before work and try to fit the rest on top. I'm lucky as I can be flexible and if I need to go a couple of hours early to go racing I can, so long as I put the hours in. It's a juggling act but you do it because you love horses."
David Dunsdon
Age 34
Winners 78
Profession Managing director
David Dunsdon is perhaps a more recognisable name than many in racing's amateur ranks and, despite scaling back his riding commitments in recent years, one of the most talented non-professionals of his generation is still intrinsically linked with the sport.
In his pomp, Dunsdon was Fegentri World amateur champion and even had a spin in the Grand National on Joly Bey, owned by his father John and trained by his cousin Nick Gifford, completing the course when 14th in 2005.
More recently his commitments at the family's Surrey property company Coldunell, of which he is managing director, have dominated his time, but with the 34-year-old still harbouring an ambition to ride at least one winner under rules a year, there is no indication a riding career well into its second decade is nearing a finale.
"With race-riding, it's partly trying to train enough to ride and finding sufficient time to be fit enough," says Dunsdon. "It would be great to be able to dedicate more time to riding and my horses – anyone who has a hobby or interest would like to spend more time doing it than being in the office."
Dunsdon spent more time riding in France than Britain during his 20s but cut back drastically following the death of his father in 2012 as commitments changed.
However, he now feels he is in a position where he can perhaps dedicate more time to riding, although he will be partnering only his own horses from now.
He says: "I haven't been very active for a decade but I'm now in the position that I can delegate a bit more resource to racing again. I'm very fortunate that the nature of our business, and because I have a great team in the office, means I'm able to facilitate my passion and spend time with the horses, but I would like it to be more."
His glory days on the track may be in the past but there are not many 34-year-olds who have experienced as much as Dunsdon, and it is unsurprising to hear he still has some lofty dreams, including riding at the Cheltenham Festival again.
Stranger things have happened in racing, especially considering Willie Mullins is one of his trainers.
Louis Muspratt
Age 26
Winners 20 (six under rules)
Profession Bricklayer
Louis Muspratt is well placed to discuss the differing dynamics of the professional and amateur arms of the sport. Now a bricklayer by trade, Muspratt's ambition was to ride professionally and he even turned conditional in 2013 when attached to Chris Gordon's yard.
The transition was short-lived, however, and after a challenging 12 months he made the decision to give up on his dream, instead reverting to amateur status and thinking of a second career.
"I'd rather be sat on a horse but I didn't want to be mucking out when I'm retired at 35," he explains. "I wanted a bit more security."
Muspratt rode four winners as a conditional for Gordon but the experience opened his eyes to what might lie ahead if he relied solely on a career race-riding.
"I was thinking long term," he says. "If I didn't get far, what was I going to do with my life? I wanted to secure my groundings and set some foundations, which is why I got into another trade."
Muspratt decided to combine amateur riding with a two-year apprenticeship in bricklaying. Fully qualified now, he thoroughly enjoys his new livelihood in Poole, although riding has had to take a back seat.
"I did hang my boots up at the end of this season," he says, although not entirely convincingly. "The best horse I ride is Impact Area and I'd more than likely come back for him next season, but he'd be my sole inspiration.
"I've a lot more responsibility now. Jobs aren't going to get done if I'm out with a broken leg but Harriet Waight, who trains Impact Area, said she'd be calling me up to ride him. My fitness is still up but until I get the call you're never sure."
Muspratt describes race-riding as a drug and one he misses, although he makes clear it is the non-professional side of the sport that gives him his fix.
He says: "The pressure of trying to make it as a pro took the enjoyment away and I found I was having more fun on the point-to-point field. Professionally there's a lot of time spent training and eating right, and you're having more fun when you're not having to waste as well."
Sam Davies-Thomas
Age 24
Winners 73 (three under rules)
Profession Saddler
Sam Davies-Thomas is something of a celebrity in the point-to-point sphere. With 70 wins at racing's grassroots level, he is widely recognised as one of the best amateurs around.
Turning professional was never a viable option for Davies-Thomas, so instead he has put his passion for racing to good use, training to become a saddler three years ago, a vocation he now adores and one that has not suffocated his race-riding ambitions.
"Since taking on this job I've probably got busier riding," he says. "I've three main yards I ride for. The problem is one's in East Anglia, one's in Kent and one's in Leicestershire.
"They're good to me and understand what I do, and I probably ride out for them only three or four times a year. But they have about 15 horses each to ride, so it works well."
Davies-Thomas is perhaps in the minority as he clearly has a fantastic relationship with his bosses at Harley Equestrian in Northamptonshire, another reason his successful point-to-point career continues to flourish.
"Because my bosses are so good I can keep up my riding commitments," says Davies-Thomas, who was third in the national point-to-point championship with 27 winners last season.
"If I have a ride in the week they are very understanding and the blend is great. I'm making a career and having a hobby at the same time.
"At work I spend half my time in the office and half in the workshop, which is my favourite part."
Having previously worked for Jonjo O'Neill and Caroline Bailey it is unsurprising he is at the top of the amateur ranks, and although his weight scuppered any hope to ride professionally he would urge others in a similar position to take the amateur road.
He says: "The pros obviously get paid but being an amateur is having some fun with your mates – there's no pressure. Just trying to get the rides as a professional is hard, and for me it's about the social side of things."
Read more great features every week in your fantastic 16-page supplement in Sunday's Racing Post