Antonia Peck 3rd in Houston USA for GB
05-03-2018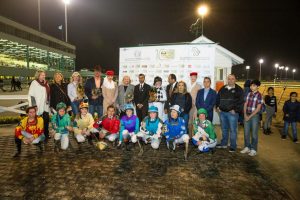 Antonia Peck defied the elements and managed to make it to the airport to ride for the UK in Houston Texas on Saturday 3 March in the HH Sheikha Fatima bint Mubarak Ladies World Championship. The severe weather disrupted travel plans for many of the Euroopean ladies and another bad weather front in the US itself stopped their lady rider from taking part with flights grounded on the East Coast.
Many congratulations to Antonia who enjoyed a fantastic trip and finished 3rd with Sweden's Tina Henriksson victorious on UPTOWN SANDY GIRL denying Cindy Klinkenberg in a close finish.
Thanks as always to Lara Sawaya, Executive Director of HH Sheikh Mansoor Bin Zayed Al Nahyan Global Arabian Horse Flat Racing Festival, for these great opportunities for our lady riders which are hugely appreciated by us all.