Sally Randell comes out of retirement, wins and then re-retires!
10-03-2018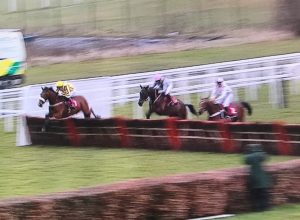 Our military races are an integral part of our calendar and never seem to disappoint, with extraordinary stories often emerging. Surely nobody can forget in recent years the emotional victories of Brodie Hampson and then of Guy Disney with back-to-back victories in last and this year's Royal Artillery Gold Cup.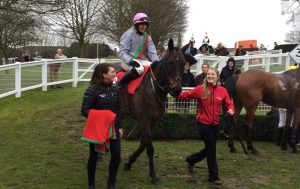 The lead-up to Cheltenham obviously dominated all racing news in the week leading up to it but there are always plenty of stories out there and none more remarkable than the comeback ride out of retirement of Sally Randell which preceded Billy Aprahamian's magnificent victory later in the afternoon of the Grand Military Gold Cup.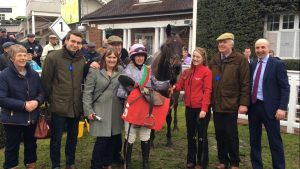 Specifically targeting her regular ride at home, 14 year-year-old RATIFY trained by partner Fergal O'Brien, Sally dusted off her boots and to her joy all went exactly to plan – to win the Queen Elizabeth The Queen Mother Memorial Amateur Riders' Handicap Hurdle at the Military meeting at Sandown on 9th March!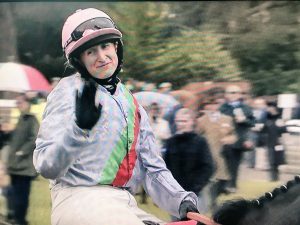 Leading early on, Sally only had to shake her horse up from 2 out for him to respond to her urgings and take up the lead on the flat and go on to win gamely by over a length.
"That was fantastic" she said. "He's the only reason I came back to ride. Five years ago was the last time I rode in this race and I won it. My grandad died that morning and I said I just wanted to ride in it one more time and there was nothing I wanted to ride until Ratify came along. I knew if I dropped my reins he could win it for me. There's not many I'd have been confident enough to ride but I knew if I just sat there he could win it for me. It was worth coming out of retirement, I was screaming at him after the last and it's just so special. I won my last chase – I thought there's no way that can happen twice. That's it, I promise, you won't see me riding again."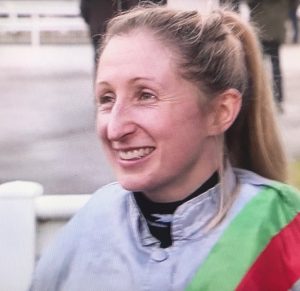 Many congratulations to Sally and to all winning connections. Sally immediately re-hung up her boots after her victory and now belongs to a very rare club , ending her riding career with winning rides both over hurdles and fences! What an achievement!
🏇
🏆
👏