Serena Brotherton crowned All-Weather Champion
20-03-2018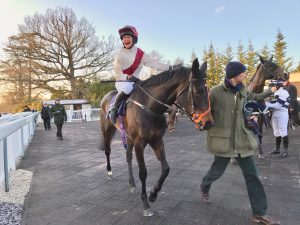 The recent return of the Beast from the East saw a couple of runners withdrawn from 14 runners declared for today's finale of our All-Weather season at Lingfield. Nevertheless the race proved to be an excellent and conclusive end to the season, just 11 days before the professionals' Championships Finals on Good Friday.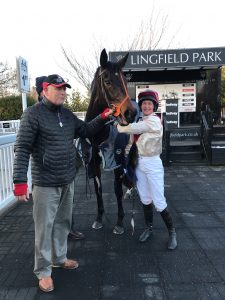 With current leading amateur
Serena Brotherton
on 32 points and Simon Walker on 27, both were well ahead of their nearest rival
Harriett Lees
(13 points) with
Jessica Cooley
and
Bruce Lynn
on 10. However, with the possibility of Simon drawing level with Serena should he have won today, nothing was certain.
Always handy aboard Stuart Williams' RELEVANT, Serena led from about 4 furlongs out and went clear to win comfortably by 9 lengths from Simon Walker and HALLINGHAM with
Hugh Nugent
3rd. This decisive win stamped Serena's authority on the season with a total of 7 wins and fellow multiple champion Simon Walker claimed the runner-up position with 4 wins to his credit.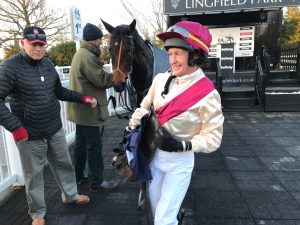 Very many congratulations to our new All-Weather Champion and to runner-up Simon Walker, both familiar figures on the podium at the end of every season. What a record they share!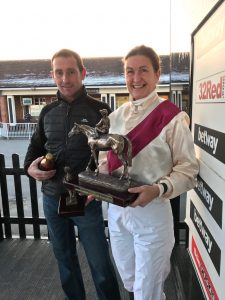 Many congratulations also to all our other winning jockeys this season:
Harriett Lees
,
Jessica Cooley
,
Bruce Lynn
.
Abbie Mccain
,
Alex Ferguson
,
Jonny Flook
,
Brodie Hampson
, Hannah Knowles,
Lisa O'Neill
and
Richard Patrick
. Well done all!
2006/7 Runner-up Simon Walker
2007/8 Champion Simon Walker
2008/9 Champion Simon Walker
2009/10 Champion Serena Brotherton
2010/11 Runner-up Simon Walker
2011/12 Champion Simon Walker
Runner-up Serena Brotherton
2012/13 Champion Simon Walker
Runner-up Serena Brotherton
2013/14 Joint Champion Serena Brotherton
Joint Champion Simon Walker
2014/15 Champion Simon Walker
2015/16 Champion Simon Walker
Runner-up Serena Brotherton
2016/17 Champion Simon Walker
Runner-up Serena Brotherton
2017/18 Champion Serena Brotherton