UK represented in Abu Dhabi HH Sheikha Fatima finales this Friday 9 November
06-11-2018
This Friday 9 November sees the finales of both the HH Sheikha Fatima bint Mubarak Ladies World Championship (IFAHR) and also the HH Sheikha Fatima bint Mubarak Apprentices World Championship (IFAHR) in Abu Dhabi.
10 jockeys ride in each race as follows:
Ladies: Belgium's Sara Vermeersch (winner in Stockholm), France's Marie Lemartinel (winner in Morocco) and Mégane Peslier (winner in Toulouse), Germany's Rebecca Danz  (winner in St Moritz), Ireland's Evanna McCutcheon (winner in Oman), Italy's Ilaria Saggiomo Ilaria (winner in Netherlands), Morocco's Zineb Briouil, Netherlands Nadia Ibrahim, Sweden's Tina Henriksson (winner in Houston USA) and UK's Antonia Peck.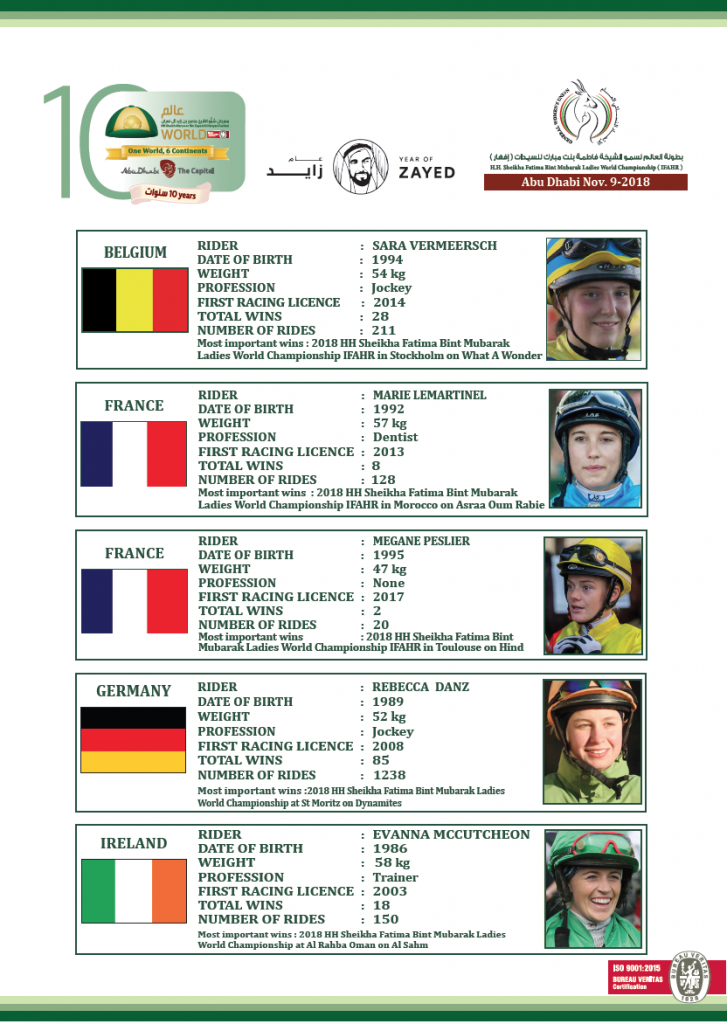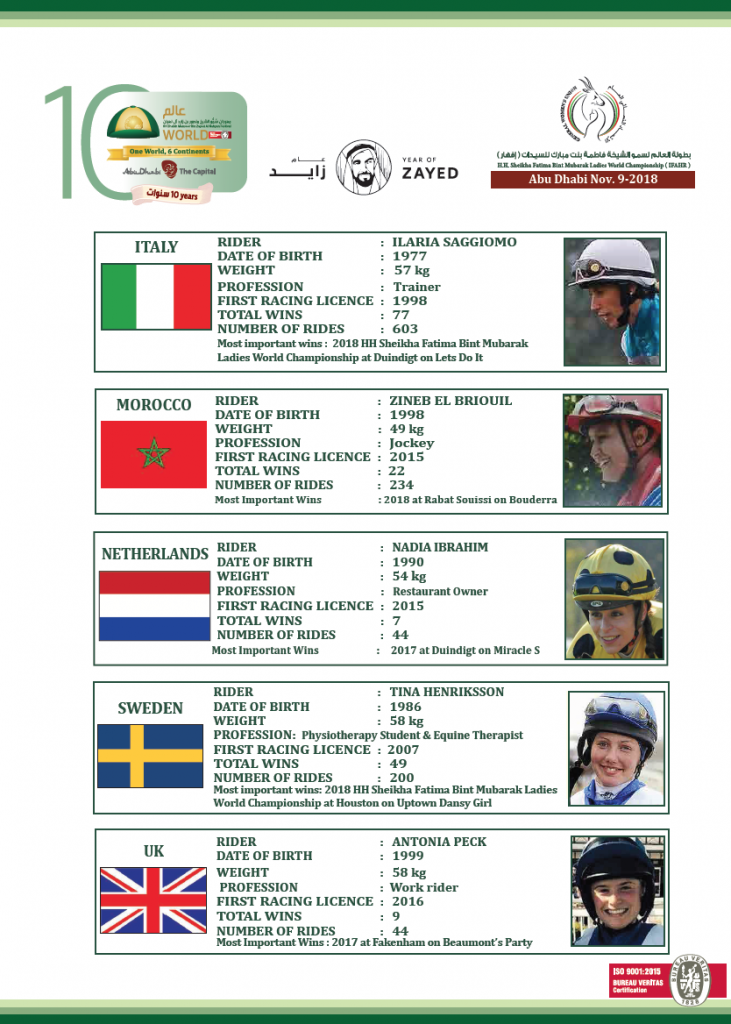 Apprentices: Belgium's Sanne De Ceulaer (winner in Seville) and Jurico Bogaerts (winner in Ostend), Germany's Esther Weißmeier, Ireland's Eoin Walsh (winner in Copenhagen), Oman's Abdul Aziz Al Balushi (winner in Morocco), Poland's Joanna Grzybowska, Russia's Anna Makarova, Spain's Alejandra Gutierrez Baeza (winner in Tarbes), Sweden's Andreas Tapia Dalbark (winner in Oman) and UK's Patrick Pilley.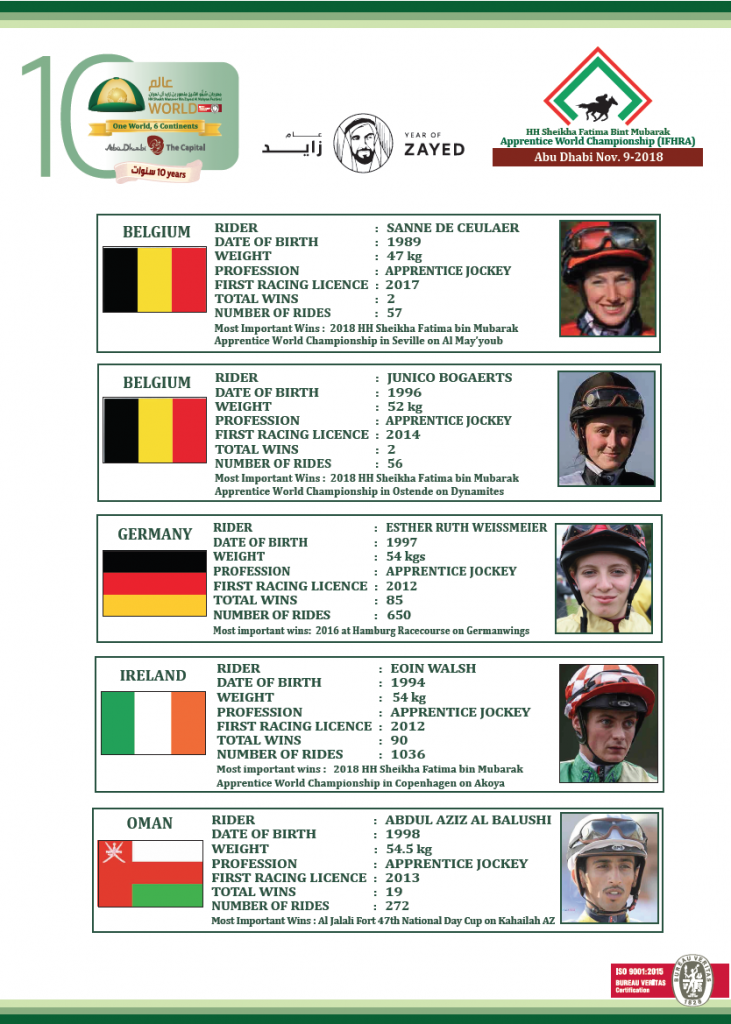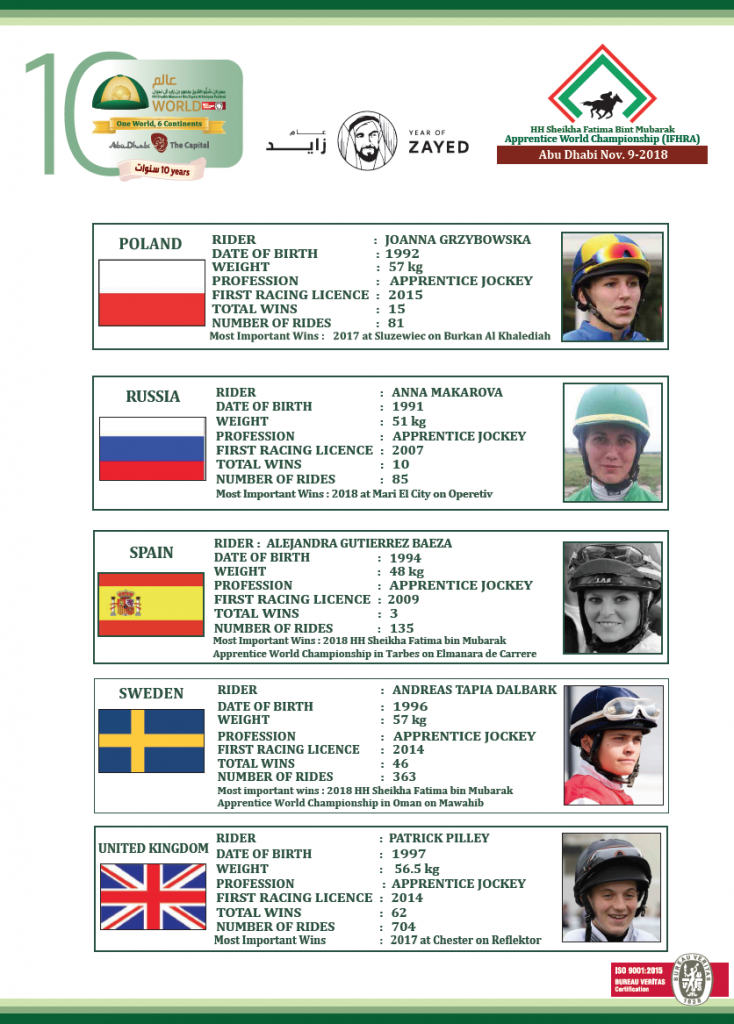 Many thanks as always to Lara Sawaya, Executive Director of HH Sheikh Mansoor Bin Zayed Al Nahyan Global Arabian Horse Flat Racing Festival, Chairman of the International Federation of Horse Racing Academies (IFHRA) and Chairman of Ladies & Apprentice Racing Committees in the International Federation of Arabian Horse Racing Authorities (IFAHR), and thanks also to our hosts in Abu Dhabi – Pat Buckley and Sam Shinsky – for their kind and generous support.
Good luck all!