25-02-2010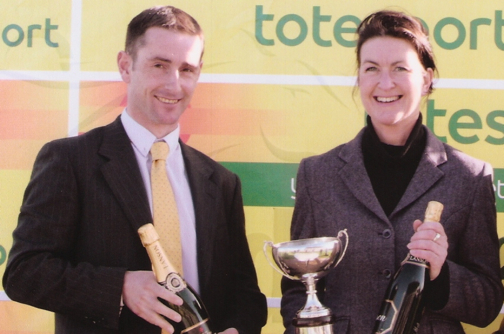 An exciting climax to this season's amateur all-weather championship saw 4 amateurs go into the finale at Wolverhampton on equal points of 12 each to contest the race for the title.  Tension was added to the build-up with freezing weather causing racing uncertainty but the racecourse passed an early morning inspection to the delight of all concerned.
As predicted in the betting markets, the closing stages of the race were fought out between two jockeys at the top of the AW league tables – our two reigning Flat champions.  Mick Easterby trained BRIGHT SPARKY stayed on gamely to give Serena Brotherton no cause for concern and her 3rd win on the dirt this season, 3/4 of a length ahead of Simon Walker and AMICAL RISKS.
Many congratulations to Serena for grasping the championship from dual successive reigning All-Weather Champion Simon Walker in literally the last strides of the season and in so doing, becoming the current reigning champion of two amateur championships.  Congratulations are also due to Simon who has been either Champion or Vice-Champion of this series for the last 6 consecutive years, taking the Championship 3 times.  (Both Simon and Serena are pictured above at Doncaster Racecourse in November when they received recognition for being Amateur Flat Champions 0f 2009.)
Congratulations to all amateurs who rode winners on the All Weather this season.  The complete season's points table will shortly appear within the tables section on this site.
| | | | | |
| --- | --- | --- | --- | --- |
| The 2009-2010 Amateur All-Weather Racing Championship | | | | |
| 6th April 2009 to 22nd February 2010 | | | | |
| FINAL TABLE | | | | |
| | | | | |
| NAME | 1st (5 points) | 2nd (2 points) | 3rd (1 point) | TOTAL |
| Miss Serena Brotherton | 3 | 1 | – | 17 |
| Mr Simon Walker | 1 | 4 | 1 | 14 |
| Mr Ross Birkett | 2 | 1 | – | 12 |
| Mr Thomas David | 1 | 3 | 1 | 12 |
| Miss Lorraine Ellison | 2 | – | – | 10 |
| Mr Ben Hamilton | 2 | – | – | 10 |
| Mr James Banks | 1 | 1 | – | 7 |
| Mr Oliver Greenall | 1 | 1 | – | 7 |
| Mr Joshua Moore | 1 | 1 | – | 7 |
| Mr Marcus Price | 1 | – | 2 | 7 |
| Mr Stephen Harrison | 1 | – | 1 | 6 |
| Mr Jeremiah McGrath | 1 | – | 1 | 6 |
| Mr Philip Prince | 1 | – | 1 | 6 |
| Mr Ben Brisbourne | 1 | – | – | 5 |
| Mr Chris Martin | 1 | – | – | 5 |
| Mr Michael Owen | 1 | – | – | 5 |