Month:
September 2008
30-09-2008

THE AMATEUR JOCKEYS ASSOCIATION HAS JUST JOINED FACEBOOK!  HURRY AND JOIN OUR GROUP!
27-09-2008
With only two contenders remaining for the Bollinger Championship at Ascot's finale on Friday 26th September, past triple Bollinger champion Simon Walker and new recruit Joshua Moore, the ensuing race of 19 runners saw neither of them in the first four.  It was Brian Toomey who was to steal the last race of the series on smart hurdler ALSADAA kicking clear early in the straight for Laura Mongan and winning comfortably by 3 1/2 lengths.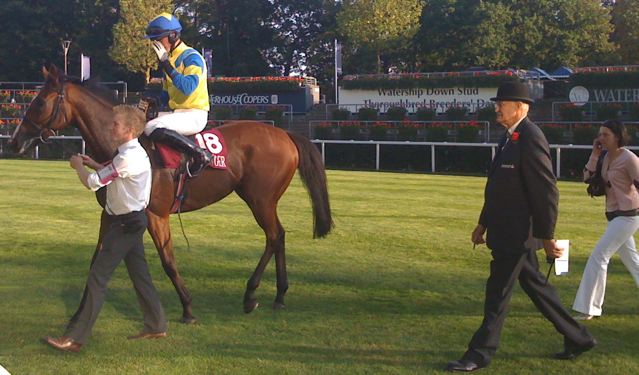 This left the series championship to Joshua Moore, younger brother of previous Bollinger champion Ryan, making it a first for two brothers to have won this title.  The runner up to the 2008 title is Simon Walker, past triple Bollinger champion.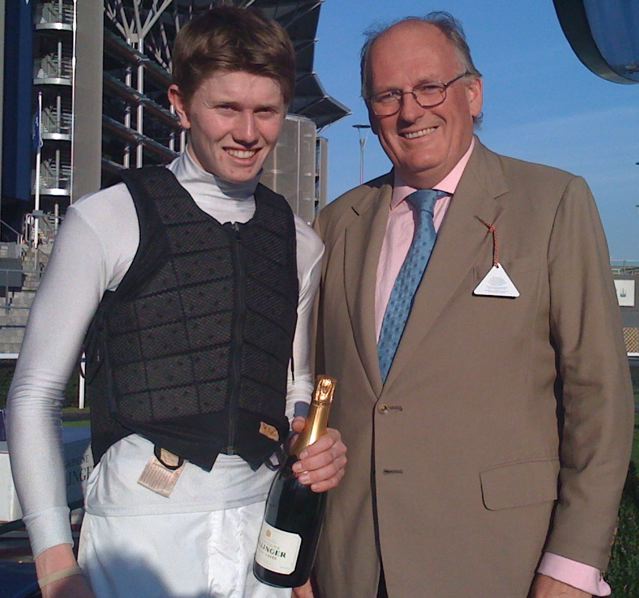 Many congratulations to Joshua on his success and many thanks to Simon Leschallas of Bollinger for yet another wonderful series which has produced some great races and a good deal of excitement.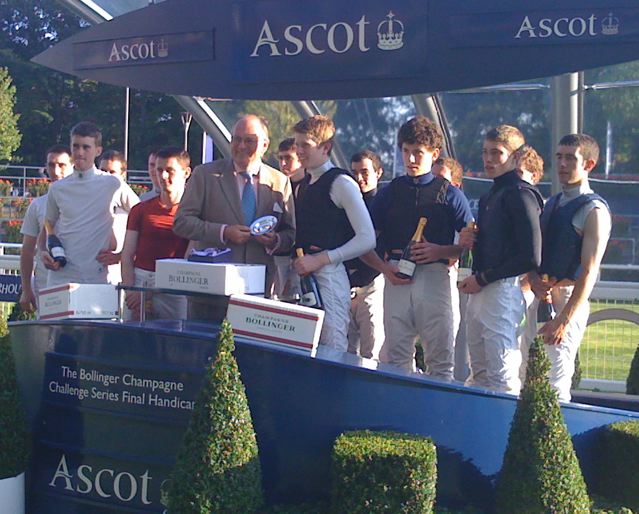 22-09-2008
Danny Cook enjoyed a fine double at Uttoxeter yesterday whilst having a weekend off from Fegentri.  Winning on both Wujood and Three Lions increases his lead in the NH men's championships and also earns him the Racing Post's "Star Performance" of the day.  
Meanwhile, his Fegentri female counterpart Gemma Gracey-Davison was in the winner's enclosure in Dunduigt in the Netherlands, having won the ladies Flat race there on the same afternoon.  Well done to them both! 
10-09-2008
10-09-2008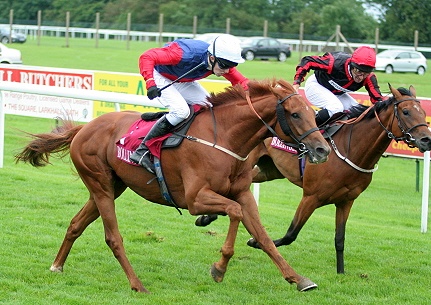 Joshua Moore enjoyed his third Bollinger (and career) win in the penultimate Bollinger race of the season at Bath on Monday on his father's Wyeth.  Giving Wyeth a patient ride in the early stages of the race, he managed to hold on by a neck in a driving finish from Simon Walker on Munlochy Bay.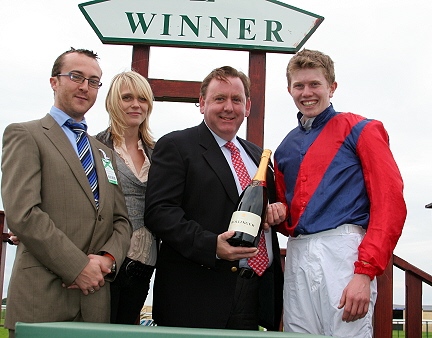 This win takes Joshua into the lead with 42 points, with Simon Walker (36 points) and Ross Birkett (32 points) his nearest rivals and the only gentlemen in the shake up for the prized Bollinger title to ensure an exciting finale at Ascot on 26th September.
09-09-2008
Aggressive front running tactics paid off for Alyson Deniel today on Bollin Eric at Beverley in the heavy ground when just holding on by a nose from Dark Planet with Ming Vase a nose back in third.  This was the first of three races being sponsored this year by SAWFISH SOFTWARE following their initial successful ladies series in 2007.  The series next moves to REDCAR on 17th October before the finale at NOTTINGHAM on 29th October.  Today's win also takes Alyson into pole position in the ladies amateur championship tables to share top slot with Amy Ryan on 4 wins. 

07-09-2008
Congratulations to Gemma Gracey-Davison on a great winning ride at Fontwell today on her mother's Just Beware in the handicap hurdle, keeping on very courageously to hold off AP McCoy close to the line and win by 3/4 of a length. 
 Gemma, currently lying 3rd in the FEGENTRI series having ridden a winner in Sweden and being unlucky in some of the rides she has been drawn, continues her representation for Great Britain this Thursday evening when the ladies race at Tipperary. Meanwhile this week Danny Cook, currently lying 2nd in the FEGENTRI series for the gentlemen whilst also leading at home  in the current gentleman amateur jockeys NH championship with 5 winners (which cannot include his additional FEGENTRI invitation race win at Stratford-on-Avon in July), has travelled to Philadelphia to ride at Delaware and at  Monmouth Park. Emily Jones also represents Great Britain this week in Turkey, new members of FEGENTRI, where their inaugural ladies amateur race is being held in Istanbul.   
05-09-2008
There is currently a dearth of European gentlemen jump jockeys able to take part in the Fegentri Series and as a result Fegentri have arranged for a residential jumping course to take place at The Northern Racing College soon.  (Currently there is no Fegentri jump race for lady jockeys and therefore apologies to lady jump jockeys but this course is only for gentleman jockeys.)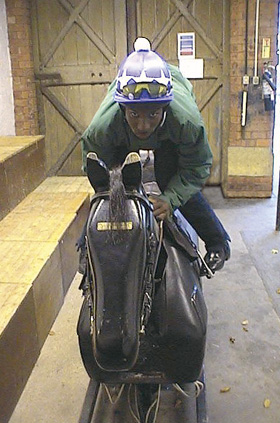 A free place is available for a Category A amateur gentleman jockey to attend a residential jumping course at The Northern Racing College, Doncaster, from Monday 15th September to Friday 19th September.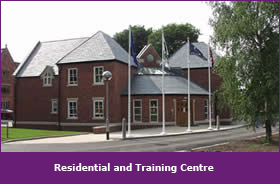 Arrival should be on Sunday afternoon or early evening, 14th September. This course is being funded by FEGENTRI and we are most grateful to them for this opportunity for one lucky jockey who wishes to gain valuable experience under the watchful eye of a tutor.  Accommodation and meals will be paid for by FEGENTRI and travel to Doncaster will be paid for by the AJA.  The ideal applicant will be a member of the AJA, hold an amateur jockey's licence and will have race ridden at least on the Flat if not over jumps, and will have had some experience of schooling at home.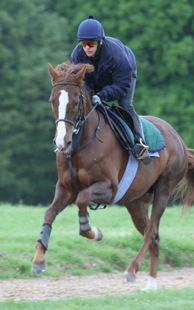 If you would like to put your name forward for this once-in-a-lifetime chance to have a week of expert tuition, then please do not delay and contact Sarah Oliver at the AJA either by e-mail at sph.oliver@btinternet.com or by phone on 01886 884488 or 07789 935399. 
02-09-2008
 Unlike 2007's return match of the Anglo-Irish Ladies challenge which was abandoned at Newton Abbot due to waterlogging, this year's return match on 20th August  was lucky to survive an inspection with a repeat in the weather!   Sponsored for the first time by AT THE RACES, only 6 runners went to post, 2 teams of 3 each, with Ireland represented by Sharon Dunphy, Jacqueline Kidd and Lisa O'Neill and Great Britain represented by Faye Bramley, Gemma Gracey-Davison and Zoe Lilly.  Setting a very steady pace, the girls took their time, with the tempo increasing in the final home straight and Gemma Gracey-Davison looking the likely winner at the penultimate flight.  However, Jacqueline Kidd quickened away in a driving finish to secure this year's series for Ireland.   Jacqui is of course no stranger to us, having won the runner-up slot to Rose Davidson in this year's 2007/2008 Ladies NH Amateur Jockey Championship as well as winning the 2008 Cadale Ladies Hurdle Series this spring.  Many thanks to At The Races for their generous sponsorship (and great interviews!) and to Limerick and Newton Abbot racecourses (especially Jason Loosemoore and Angus Houston) for their great support, and we look forward to the 2008/2009 challenge which will return with fresh teams to Limerick this November and Newton Abbot next summer. 
01-09-2008
The Amateur Jockeys Association 
of Great Britain 
NORTHERN DINNER DANCE
Saturday 22nd November 2008
THE RICHMOND SUITE
SCOTCH CORNER HOTEL
JUNCTION A1/A66 RICHMOND
NR DARLINGTON, NORTH YORKSHIRE
Black Tie
Dinner 7.30 pm
Pate
Roast Pork with seasonal vegetables (Vegetarian option available )
Banoffee Tartlets
Coffee & Mints
Bar from 6.00 pm until 1.00 am
Carriages at 1.30 am
TICKETS @ £40 EACH 
(CHEQUES PAYABLE TO AJA) 
FROM:
Carol Bartley 07734 303862
Serena Brotherton 07740 257110
Accommodation at discounted rate 
if booked by 8th November  (quote 'AJA') 
Double B&B @ £70; Single B&B @ £45
Tel: 01748 850900