26-11-2009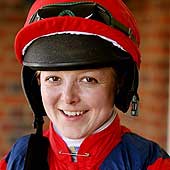 Reigning NH Amateur Champion Lady Jockey LUCY HORNER has been forced to hang up her boots for the foreseeable future owing to an old eye injury.  Lucy rode 11 winners last season to take the ladies title, 4 ahead of Rose Dobbin from whom she took the lady jump jockey's crown.
With not only a career total of 28 jump wins under her belt in Great Britain but also wins over timber in the United States and in cross-country races in France (Le Touquet and Dieppe), Lucy has made a great success of her amateur career in a variety of climes.Chris Grant's TOM'S TOYBOX was one of Lucy's most high profile rides, giving her three wins and 4 placed rides last season.  Lucy remembers her greatest day's racing when she had the opportunity to ride and be placed in a Grade II Chase and says it was "nice to mix it with the big boys".
We all wish Lucy every good wish for the future and hope that with the advancement of medical science the day will come when she might be able to consider a return to race riding.